Top Story
The producers of "Magic Mike The Musical" have cancelled a Boston engagement, saying that they don't feel the musical is ready for production.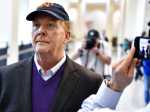 Celebrity chef Mario Batali, whose career crumbled amid several sexual misconduct accusations, pleaded not guilty Friday to a charge that he forcibly kissed and groped a woman at a Boston restaurant in 2017.
Adam Levine is leaving NBC's "The Voice" after 16 seasons.
Whether or not Quentin Tarantino wins the Palme d'Or this year, at least he's not coming home without a trophy.
Hulu is announcing a new animated series called "The Bravest Knight," which features a young girl and her same-sex parents.
Burn brightly it does not.