Top Story
Out actor Luke Evans took to Instagram Monday to celebrate that he can "finally" see his abs, sharing a shirtless workout pic to his 2.3 million followers.
1 thru 10 of 1613 Stories
National Institutes of Health (NIH) and Massachusetts General Hospital (MGH) researchers have identified a new use for tesamorelin which may help reverse liver disease in those living with HIV. Read the highlights of the NIH press release here.
The Aids Healthcare Foundation (AHF) called on October 5 for Gilead Sciences Inc. to cut prices of pre-exposure prophalaxis drug Descovy. The new medication,was recently FDA approved amid controversy concerning its limited lab testing demographics.
The Food and Drug Administration approved the use of Descovy as an HIV prevention drug on Thursday. Descovy contains a newer formulation of the drug in Truvada, which has been used to treat those infected with HIV since 2004.
Heads of states, CEOs and global health leaders gathered Thursday in France to try to raise at least $14 billion to finance the fight against AIDS, tuberculosis and malaria over the next three years.
Pharmacists in California will be able to dispense HIV prevention pills to patients without a doctor's prescription after Gov. Gavin Newsom signed legislation Monday that supporters say will greatly reduce the spread of infection.
Dozens of Iranian lawmakers have demanded an investigation into violent protests in the central Iranian town of Lordegan.
"Queer Eye" star Jonathan Van Ness stopped by "Jimmy Kimmel Live" and opened up about HIV stigma, just weeks after revealing that he is HIV-positive.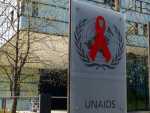 African leaders brought the field to the headquarters as they spoke in front of a green marble backdrop and told stories of illiteracy and malnutrition, about people living with HIV and without electricity.
When fans of "Queer Eye's" Jonathan Van Ness read his upcoming memoir "Over the Top," due out on September 24, they will likely be surprised by his frankness, which includes the disclosure that he is HIV+.
Lawyers for two Air Force members who are HIV-positive urged a federal appeals court Wednesday to uphold an injunction that bars the Trump administration from continuing with discharge proceedings against them.
1 thru 10 of 1613 Stories