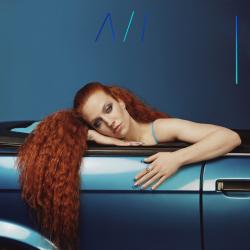 'ALWAYS IN BETWEEN' (ATLANTIC RECORDS) OUT NOW FEATURING "ALL I AM" AND "I'LL BE THERE"

Grammy award winning Jess Glynne — singer, star and voice of the street —releases her sophomore album 'Always In Between' out now via Atlantic Records.

'All I Am' is the brighter, bolder and even more brilliant follow up to the 'I'll Be There' - the history-making first single from 'Always In Between' which flew straight to number one making Jess the only British female to have achieved a whopping seven #1 singles. In every way possible, 'All I Am' is loaded with pure joy, and from the second it begins it exudes the type of universal positivity that has made Jess so widely popular across the world. 'All I Am' is a proclamation of togetherness, a celebration of friendship and ultimately one of the most magnificent pop-songs you'll hear this year.

'Always In Between' finds Jess on a breath-taking journey of self-acceptance. Jess's debut album, 'I Cry When I Laugh' is one of the defining British pop records of its era. It debuted at number one in the UK, spawning 12 million worldwide singles sales, 39 weeks on the UK top 10, 2.5 billion Spotify streams, a sold-out UK arena tour, Brit, MTV: EMA, Ivor Novello, MOBO, Q and Glamour award nominations.

'Always In Between' captures the heart of what being a 28-year old woman in 2018 can feel like — trying to balance real life with everything that you want it to. If 'I'll Be There' and 'All I Am' are anything to go by, there's no doubt that 'Always In Between' will capture even more under its spell as Jess Glynne once again reaches out her hand, and offers love and friendship and unity to all that can hear her.

Enter to win!

Thanks for visiting EDGE!
Enter this contest
If you already have an account with EDGE, all you need to do is log in; we'll pull your address information from your account and simply ask you to verify it. If you do not yet have an account with us, register now! It's easy and free, and you'll never have to type in your personal information again. If you prefer to enter this information manually, you can use the manual entry link below.
Register
Manual Entry
Click here for contest rules.
* Please be aware that creating multiple accounts for the same person will disqualify you.