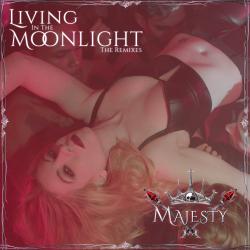 MAJESTY IGNITES DANCE FLOOR REVOLUTION WITH "LIVING IN THE MOONLIGHT"

Debuting as #2 Billboard Breakout Artist, Majesty has emerged to ignite a dance floor revolution with the dark and edgy "Living in the Moonlight" - featuring remixes by internationally renowned EDM producer and radio personality DJ Lynn Wood (Beyoncé, Demi Lovato) and Dan De Leon, whose remix work includes numerous Billboard #1's, Top 10's and Top 20's for Noelia, Timbaland, Nelly Furtado, Kristine W and Debby Holiday.

"Living in the Moonlight" is about having the courage to live life unhinged as your true self," Majesty says, "that's where the revolution begins, and what better place than the dance floor, darling?"

"Living in the Moonlight," is the first release off Majesty's upcoming full-length EP, and was produced by renowned Belgian born singer/songwriter and producer Lynn Verlayne (Athena, Kendra Erika), whose NYC based artist development & management company represents the singer. "Living In The Moonlight" also features additional production by Scott Jacoby (Coldplay, John Legend). The official video for the track, directed by Verlayne and John Engstrom (Cyndi Lauper, Britney Spears), depicts a fiery underground NYC dance sequence that Majesty calls "a vampire rave."

"The song is saying, 'OK, when the lights go out, who are you? It's about shedding your outer skin, waking yourself up - and not being someone else just because people think you're supposed to be that way. I'm excited that people will enjoy dancing to it, but I want them to go deeper with it."

The Brooklyn native, wrestled with a few different stage names and personas before presenting her artistic voice and vision as Majesty. Growing up, she found that classic Disney films and songs provided an exciting escape into a delightful fantasy world, and her Majesty image draws directly on the Evil Queen in Snow White and the Seven Dwarfs.

"She's the perfect blend of fashion, drama and music," Majesty says.

--Connect with Majesty-

http://officialmajesty.com/
https://twitter.com/Majesty_Music
https://www.facebook.com/officialmajestymusic/
https://www.instagram.com/Majesty_Music/

Enter to win!

Thanks for visiting EDGE!
Enter this contest
If you already have an account with EDGE, all you need to do is log in; we'll pull your address information from your account and simply ask you to verify it. If you do not yet have an account with us, register now! It's easy and free, and you'll never have to type in your personal information again. If you prefer to enter this information manually, you can use the manual entry link below.
Register
Manual Entry
Click here for contest rules.
* Please be aware that creating multiple accounts for the same person will disqualify you.