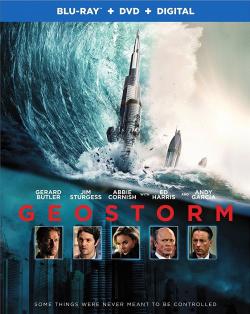 GEOSTORM

Own it early on Digital on January 16

Blu-ray debuts on January 23

Uncover the world's biggest conspiracy when "Geostorm" arrives onto Blu-ray Combo Pack, DVD and Digital. Dean Devlin (writer/producer, "Independence Day") makes his feature film directorial debut with suspense thriller "Geostorm,"

After an unprecedented series of natural disasters threatened the planet, the world's leaders came together to create an intricate network of satellites to control the global climate and keep everyone safe. But now, something has gone wrong-the system built to protect the Earth is attacking it, and it's a race against the clock to uncover the real threat before a worldwide geostorm wipes out everything...and everyone along with it.

The film stars Gerard Butler ("Olympus Has Fallen," "300"), Jim Sturgess ("Cloud Atlas"), Abbie Cornish ("Limitless"), Alexandra Maria Lara ("Rush"), Daniel Wu ("The Man with the Iron Fists," "Warcraft: The Beginning"), Eugenio Derbez ("How to Be a Latin Lover"), with Oscar nominees Ed Harris ("The Hours," "Apollo 13") and Andy Garcia ("The Godfather: Part III").

Butler stars as Jake, a scientist who, along with his brother, Max, played by Sturgess, is tasked with solving the satellite program's malfunction. Cornish stars as Secret Service agent Sarah Wilson; Lara as Ute Fassbinder, the ISS astronaut who runs the space station; Wu as Cheng, the Hong Kong-based supervisor for the Dutch Boy Program; Derbez as space station crew member Hernandez; with Garcia as U.S. President Andrew Palma; and Harris as Secretary of State Leonard Dekkom. The film also stars Zazie Beetz (upcoming "Deadpool 2," TV's "Atlanta"), Adepero Oduye ("The Big Short," "12 Years a Slave"), Amr Waked ("Lucy," "Syriana"), Robert Sheehan ("The Mortal Instruments: City of Bones," "Season of the Witch") and Eugenio Derbez ("Instructions Not Included").

#Geostorm

https://www.facebook.com/GeostormMovie

Enter to win!

Thanks for visiting EDGE!
Enter this contest
If you already have an account with EDGE, all you need to do is log in; we'll pull your address information from your account and simply ask you to verify it. If you do not yet have an account with us, register now! It's easy and free, and you'll never have to type in your personal information again. If you prefer to enter this information manually, you can use the manual entry link below.
Register
Manual Entry
Click here for contest rules.
* Please be aware that creating multiple accounts for the same person will disqualify you.