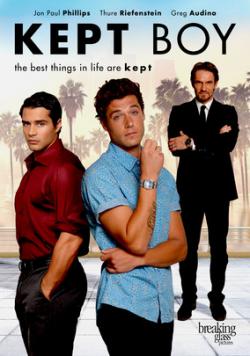 Breaking Glass Pictures has acquired North American rights to writer/director George Bamber's (The Mostly Unfabulous Social Life of Ethan Green, 'Bloomers') second feature film KEPT BOY. Breaking Glass acquired the rights to the film in January in a deal negotiated between Breaking Glass CEO Rich Wolff, and writer/director George Bamber and Kept Boy, LLC. The film is slated for a DVD/VOD release August 8, 2017.

Based on the novel of the same name by Robert Rodi, KEPT BOY is the second feature film directed by George Bamber, who is well-known for his successful AD career on films such as Pitch Perfect, The Lincoln Lawyer, Jeepers Creepers, and Dodgeball: A True Underdog Story. The film is proudly produced by Laura Reich, Haley Christensen, and Ben Simons.

KEPT BOY held its world premiere at the prestigious OUTshine Film Festival in Miami. The film stars Jon Paul Phillips (X/Y), Thure Riefenstein ('The Man in the High Castle', Behind the Candelabra), and Greg Audino ('Angie Tribeca', 'New Girl', Rosewood).

KEPT BOY follows interior designer/reality show star Farleigh Knock, who has a knack for keeping beautiful things, like adonis Dennis, around his home. But when Fairleigh gives Dennis an unthinkable ultimatum for his 30th birthday, to get a job or get out, Dennis goes from Kept Boy to Lost Man. George Bamber directs this dark gay comedy that shows life with a sugar daddy is bittersweet and poses the question: what is love and what is the price to keep it?

"I'm excited to put a post queer take on Robert Rodi's twisty and hilarious romp", said director George Bamber. "I know all audiences will enjoy KEPT BOY's story of love and the secrets of keeping it, and Breaking Glass is the perfect partner to release our story over all media platforms."

"Breaking Glass Pictures is extremely proud to bring director George Bamber's second feature film to US audiences", said Richard Ross, Co-President at Breaking Glass. "KEPT BOY is funny, outrageous, witty and chock-full of insightful, heartfelt humor. Whether you have one, want one, are one, or want to be one, you'll derive a great deal of pleasure from your time spent with this Kept Boy!"

Starting August 8, KEPT BOY will be available on DVD and through the following platforms: iTunes, Amazon Instant, Google Play, Vudu, and through your local cable provider.

Enter to win!

Thanks for visiting EDGE!
Enter this contest
If you already have an account with EDGE, all you need to do is log in; we'll pull your address information from your account and simply ask you to verify it. If you do not yet have an account with us, register now! It's easy and free, and you'll never have to type in your personal information again. If you prefer to enter this information manually, you can use the manual entry link below.
Register
Manual Entry
Click here for contest rules.
* Please be aware that creating multiple accounts for the same person will disqualify you.