In an area where average emergency room claims reached 842% of Medicare rates, residents of a Colorado county found relief by joining forces and negotiating prices directly with the local hospital.
Sen. Bernie Sanders and other progressives seeking the Democratic presidential nomination are zeroing in on pharmaceutical and insurer profits, money they say would be better spent providing health care for everyone under "Medicare for All."
Which of these Democrats can insure more Americans?
Kamala Harris released a health care proposal on Monday that sought to bridge the Democratic Party's disparate factions. Instead, she drew criticism from rivals across the political spectrum.
Joe Biden had just rolled out his health care plan when he made what could be a fateful pledge to a crowd in Iowa: "If you like your health care plan or your employer-based plan, you can keep it."
Kamala Harris is filling in the details of how she would move 330 million Americans onto a single government health insurance system, her fullest statements on an issue that's getting top billing in the Democratic presidential primary.
The proposal put forward by Biden last week is much more ambitious than Obamacare — and, despite its incremental label, would make some very controversial changes.
Two of the Trump administration's primary targets, slashing rebates to drug supply middlemen and requiring prices in drug ads, fell apart in recent weeks.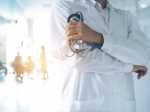 Will the tension between a profit-driven health care system and high costs crumble our health care system?
Surprise bills are a byproduct of the wrangling between two sets of players — insurers and care providers — a battle of giants that often leaves patients holding the bill.