Netflix is sharing a trailer for the upcoming mini-season of "Queer Eye: We're in Japan."
MSNBC commentator Rachel Maddow is making her first foray into the world of superhero-television with her upcoming voice role in the CW's "Batwoman."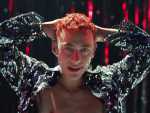 The creator of the U.K.'s "Queer as Folk" is readying a new project called "Boys," which will be a drama about the AIDS crisis set in the 80s and he's already assembling a new cast.
After a year off, "Mr. Robot" returns for its fourth and final season, reminding us why it's one of the best TV shows of the decade.
The famous French bulldog Bruley, who became the mascot for Netflix's rebooted "Queer Eye," has died. He was 10 years old.
CNN says it has rejected two advertisements submitted by President Donald Trump's re-election campaign because they weren't factual, but will run a third ad that was submitted on Thursday.
Ruby Rose says she went public about sustaining serious injuries while performing stunts on her new CW series "Batwoman" because she hated that by keeping it quiet, she was lying.
"RuPaul's Drag Race" Season 9 finals Peppermint is making some major news. Entertainment Weekly is reporting the trans activist is joining the show "God Friended Me" playing a trans pastor in a two-episode arc.
"Queer Eye" star Jonathan Van Ness stopped by "Jimmy Kimmel Live" and opened up about HIV stigma, just weeks after revealing that he is HIV-positive.
Ryan Murphy has cast the actor who will play Hollywood icon Rock Hudson in an upcoming Netflix TV show aptly called "Hollywood."