'Downton Abbey: The Exhibition': Catch the Immersive Experience through September in Boston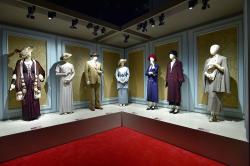 The Crawley's have arrived in Boston.

Missing "Downton Abbey?" Now is your opportunity to reacquaint yourself with aristocratic Crawleys and their servants before the "Downton Abbey" movie hits theaters this September.

The exhibition is located in the Castle at Park Plaza and features replicas of Mrs. Patmore's kitchen, Mr. Carson's pantry, and the Crawley's extravagant dining room. The rooms are all meticulously curated, right down to the dining room silverware.

Throughout the exhibition, there are CGI clips that play scenes from the show. There are also a few hologram greetings from some of the cast members.

In addition to viewing hats and other accessories from the show, you will be able to see a number of wardrobe pieces. You will view over 50 costumes that include everything from Edith's wedding dress to Sybil's blue harem pants.

Have you dreamed of working at Downton? Well, you can assess your skills with an interactive questionnaire to determine which job, you are most suited for.

Any fans of "Downton Abbey" are going to absolutely love this fully immersive experience that puts you right inside Downton.

Now open in Boston until September 29, 2019, in Boston. For upcoming cities on the tour, visit the event's website.

"Downton Abbey: The Exhibition" continues through September 29, 2019, at The Castle at Park Plaza, 130 Columbus Avenue, Boston, MA. For more information, including how to purchase tickets, visit the event's website.
Comments on Facebook