Shameless - The Complete Ninth Season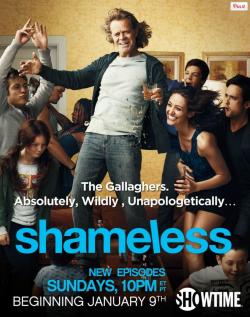 The Gallaghers and their friends get political and take on social causes in the ninth season of Showtime's longest-running scripted series, "Shameless." This season also marks the achievement of this top-rated show's 100th episode.
The issues here have been ripped strait from the headlines, and the matters this misfit family champion range from homophobia to the ethical treatment of animals.
When Ian (Cameron Monaghan) goes off his medication he starts having revelations from Shim, the gender-neutral, gay Jesus, a deity that commands its followers to engage in all manner of anarchic acts. But when Ian starts taking his anti-psychotics, he has a hard time receiving divine inspiration. Unfortunately, he now has a following and his discipleship demands a revolution from their new prophet—if not martyrdom.
Carl's (Ethan Cutkosky) follows his older brother's lead and contemplates the military, while Debbie (Emma Kenney) imitates him in another way; she decides to be queer. All this while the youngest sibling, Liam (Christian Isaiah), just tries to survive public school.
Back in possession of their pub, Kev (Steve Howey) and Veronica (Shanola Hampton) work to give it a make over. Their goal is to make the establishment "vagina friendly" after a local publication puts them on a Top 10 list—Dive Bars on the South Side Where You're Most likely to be Raped.
Meanwhile, Frank (William H. Macy) becomes a gigolo, working for every soccer mom who can get her hands on him. That is until a major outbreak of sexually transmitted infections threatens to shut down the PTA, forcing Frank to move from sex-work to marriage counseling and eventually into politics—naturally.
Fiona (Emmy Rossum), of course, opposes her father and supports the other candidate, a strong, pro-business Republican, much to the disappointment of her hot Irish boyfriend, Ford (Richard Flood), and much to the dismay of her neighbors who are trying to live in affordable housing. Her goal is simple to be a landlord rather than a slumlord.
These family squabbles will end up as they always do, in a street fight between white supremacists and super-strong lesbian bodyguards, culminating with a racist sex-offender elected to office.
The heart and soul of this season comes from Lip (Jeremy Allan White) and his efforts to put an abandoned child Xan (Amirah Johnson) into a safe home. The action turns from hilarious to heartbreaking on a dime as this compelling series continues to charm and dismay.
Available on both DVD and Blu-ray, the home video release also includes deleted scenes.

"Shameless: The Complete Ninth Season"
DVD $29.98
warnervideo.com
Comments on Facebook