The 1970 suspenseful thriller "And Soon the Darkness" is now available on Blu-ray from Kino Lorber with a great new 4K video restoration. Check this out if you're a fan of unsung genre gems.
For the fans of this 5 movie series, this attractive-looking box set (featuring the first four films of the franchise and the 2006 remake) will be scooped up and celebrated this Halloween season.
This deceptively simple drama tells the story of a father raising a daughter on his own. The fact that she is one of the only females left in the world make his job unusually difficult.
When do you give up on someone? Is it when they push you away time and again? Is it when they walk out of your life? Is it when they give up on themselves? That's what writer-director Yuval Hadadi explores in this drama.
"Fast & Furious Presents: Hobbs & Shaw" is a film that requires little brain power while drawing the viewer in with heart-pounding thrills, and that's exactly what it should be. As with its predecessors, you simply need to buckle up and enjoy the ride.
When a gay man has a penchant for dating married straight men, he's usually asking for trouble; but Daryl Stephens spins a different take with this unmissable romance.
Robert Clift's documentary about his uncle Monty brushes past biases and stereotypes to arrive at a fuller, and happier, portrait of the celebrated actor - and meditates on the stories we tell, and the stories we're ready and able to hear.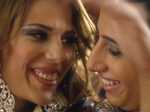 Two teenage gypsy girls living in an ultra-conservative community fall in love, which could end very badly for them and their families.
Writer-director Anthony Meindl puts a human face — a group of human faces, actually — on the epidemic of gun violence that plagues the United States with this anthology film, in which three parallel stories unfold while historic tragedies loom.
When a wealthy German gay man picks up a straight Syrian refugee to have sex, both men bite off more than they can chew.