Park Chan-wook's masterful 2009 vampire thriller "Thirst" is now on Blu-ray from Kino Lorber. Pick this release up immediately, as it is one of the Korean director's best films.
Alan Parker's "Mississippi Burning" is now available on Blu-ray with a stunning new video presentation by Kino Lorber. Unfortunately, the drama's earnest but harmful intentions are more relevant now than ever.
Long before cinema-goers became terrified by Michael Myers, Jason Vorhees, and Freddy Krueger in the 1970s and 1980s, horror actor icons Boris Karloff and Bela Lugosi scared viewers.
This Jordan Peele written and directed movie follows in the footsteps of the Oscar-nominated "Get Out" from 2017.
American audiences have the rare opportunity to see simply told, often surreal and always sincere Japanese anime, dubbed in English with actors like Maggie Q and created by some of the best animators working today.
Christaan Olwagen' musical gay dramedy is set in South Africa in 1980s, when the locals... and Boy George... were still in the closet.
Just in time for gay Pride month, Shout Factory releases a cult favorite gem in the LGBTQ+ movie genre.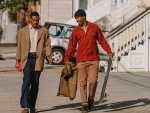 A compelling tale combines with superb performances in this lovely and profound directorial debut by Joe Talbot.
Part thriller, part lesbian romantic drama, part 100-proof delirium, this film from Marie Kreutzer.
"Men in Black: International" is the No. 1 movie in North America this weekend but the Tessa Thompson and Chris Hemsworth-led reboot isn't exactly a franchise-revitalizing hit.