Twenty-five years after premiering "Pulp Fiction" in Cannes, Quentin Tarantino is set to bring his latest, "Once Upon a Time ... in Hollywood" to the French Riviera festival Tuesday.
Pedro Almodovar's "Pain and Glory" is a self-portrait of rare precision and warm intimacy.
The official language of the Cannes Film Festival is, like the Olympics, French. But Cannes is also a Babel, teaming with the tongues of every film industry from around the world.
Robert Eggers' "The Lighthouse," starring Robert Pattinson and Willem Dafoe as turn-of-the-century lighthouse keepers, kicked up a storm at the Cannes Film Festival with a wave-making, madhouse period tale that seemingly washed ashore from another era.
It's been a roller-coaster year for James Gunn, who was fired from "Guardians of the Galaxy Vol. 3" over old tweets in July, and rehired this March.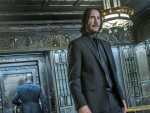 The box office has a new king and his name is John Wick. The third installment of the hyper violent Keanu Reeves franchise has taken the top spot at the North American box office and ended the three-week reign of "Avengers: Endgame."
A bleak yet compelling look at mankind's fruitless search to find a place to call home.
"What steamy sex scene?" That was the response by someone who watched the special Fandango screening of "Rocketman" on Saturday about the sex scene between Taron Egerton and Richard Madden in the Elton John biopic, due out on May 31.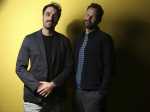 Some stars and directors come to the Cannes Film Festival by boat, others by private jet. Michael Angelo Covino and Kyle Marvin pretty much cycled their way into Cannes.
Thirty-nine years later, Jack is still not a dull boy. In a new pristine restoration, Stanley Kubrick's "The Shining" premiered at the Cannes Film Festival on Friday evening.