Robert Englund, the actor who turned Freddy Krueger into a fearsome household name, say he's looking forward to someone else taking a stab at reviving the "Nightmare on Elm Street" franchise.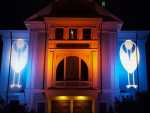 The Provincetown Film Festival, an event that kicks off the summer season in the resort, has been canceled. It was scheduled for June 17-22
Warner Bros. on Tuesday delayed the summer release of "Wonder Woman 1984" and removed the adaptation of Lin-Manuel Miranda's "In the Heights" from its schedule due to the coronavirus pandemic.
The folks at Turner Classic Movies had just decided they'd have to cancel their annual classic film festival when their general manager had an idea: What if they could do something else in recognition of the lost weekend?
Looking for something to watch this week while you remain indoors? EDGE has you covered!
Gavin O'Connor's addiction and sports drama "The Way Back" is a good showcase for Ben Affleck's many talents - and little else.
"Bloodshot" is just smart enough to be more than trash, and just trashy enough to be less than smart. It will do fine if you're looking for a lesser simulation of a good movie.
The widely popular horror classic reveals a darkly horrifying ghost story in "The Grudge: The Unfold Chapter," available now on Blu-ray, DVD and Digital with bonus content too frightening for theaters.
John M. Stahl's "Leave Her to Heaven" gets a proper Blu-ray release from the Criterion Collection, although the restoration and a lack of special features leaves a bit to be desired.
Mikhail Kalatozov's 1957 masterpiece "The Cranes are Flying" is now available on Blu-ray from the Criterion Collection, with a stunning new 2K restoration and plenty of special features to dig into.