What to See @ Frameline43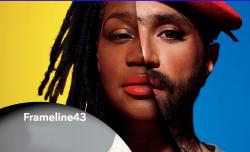 Frameline43, San Francisco's international LGBTQ+ film festival, runs through June 30 and, as usual, boasts a plethora of fabulous films for every queer and queer-plus one out there. This year's slate includes 59 US premieres and 22 world premieres, as well as a record-breaking 22 first narrative features. 38 countries will be repped, including the UK and Ireland, on Opening Night, with Chanya Button's "Vita & Virginia." David Charles Rodrigues's moving doc, "Gay Chorus Deep South," closes the fest.
For more information about Frameline43, visit the Frameline43 website.
The following are some of the best the Fest has to offer, as well as other musings.
"Benjamin"
With "Benjamin," writer-director Simon Amstell has fashioned an endearing and strangely amusing tale of a young filmmaker (a perfectly cast Colin Morgan) with low self esteem who is trying to navigate a new crush on a hot French musician (lovable Phénix Brossard of "Departures") while dealing with his own emotional baggage. Like its characters, the film is adorable, sweet, and a bit off-kilter. Jack Rowan nearly steals the film as a wacky and sexually fluid actor who "paints his feelings."
Jayro Bustamante's potent Guatemalan film "Tremors (Temblores)" has the feel of satire until you're jarred into realizing the situation being depicted is real, and the norm in many evangelical families in Latin America. Pablo (a superb Juan Pablo Olyslager) leaves his wife and children after falling in love with a man, and is immediately ostracized from every part of his world until he agrees to see the error of his ways. "Tremors" is a profoundly disturbing and important feature.
"An Almost Ordinary Summer (Croce e Delizia)"
Simone Godano's hilarious and poignant "An Almost Ordinary Summer (Croce e Delizia)," from Italy, has a fantastic cast led by Alessandro Gassman, who has his father's charm and good looks, but also his acting chops. "Summer" is a tale of two older "straight" men from different classes who fall in love and must deal with their homophobic and class-phobic families. Super-sexy Filippo Scicchitano excels as Gassman's homophobe son.
They don't get more trippy and enigmatic than Lucio Castro's "End of the Century (Fin de siglio)," from Argentina. Juan Barberini and Ramón Pujol play two handsome dudes who meet in Barcelona, have steamy sex, chat a lot and, well, then the film shifts gears and time periods and we see both characters in a possible alternate universe. Or is it? You will want to watch this film again immediately after the credits to try and figure it out, but to also enjoy it a second time.
"Making Montgomery Clift"
Montgomery Clift was one of the greatest screen actors of all time. Much has been written about this confounding figure, but in the keen doc "Making Montgomery Clift," nephew Robert Clift and his wife Hillary Demmon seek to dispel many of the erroneous and salacious assumptions about the man and the movie star, including the notion that Clift was a self-hating gay so tormented by his queerness it led him to self-destruct. The truth is a lot more complex. In this day and age where facts don't seem to matter, Clift and Demmon make a case that the investigation of accepted truths and how we disseminate them is vital to the way we move forward as a culture.
Hari Sama's semi-autobiographical "This is Not Berlin (Esto no es Berlín)" is a mesmerizing cinematic achievement about two teens, Carlos (Xabiani Ponce de León) and his bestie, Gera (José Antonio Toledano), who find themselves swimming in the underground underbelly of the Mexico City arts scene in the 1980s, a time when sexual fluidity and exploration was the norm. "Berlin" is a sexually explosive, energetic and dense work that captures a time, place and spirit.
"Camp Chaos"
A blend of fantasy, reality and memory, Corey Krueckeberg's "Camp Chaos" blurs the doc/porn lines as he follows go-go boy Matthew Camp on a journey toward re-creating past sexual experiences and creating new ones. This is episode one of a series of sexually explicit encounters with strangers willing to oblige the experiment. The sex between Camp and a San Francisco stud is crazy hot and gorgeously shot, making this viewer wonder: Can there be such a thing as porn art?
The only thing overtly gay about Timothy Busfield's "Guest Artist" is a brief mention of the title character's sexual orientation. This short, but dynamic, piece is a meditation on art and writing, and focuses on a down-and-out playwright arriving in a small Michigan town where a local theatre company is awaiting the first play he's written in 20 years. Jeff Daniels, who also wrote the screenplay, captivates in this indie gem. Unfortunately, his co-star, Thomas Macias, is too green to keep up.
In an early, too-brief scene, "One Life to Live" Emmy champ Erica Slezak goes toe to toe with Daniels, and we see just how exciting things get when two titans are allowed to play. I'd love a sequel devoted to just these two characters.
"Scream, Queen: My Nightmare on Elm Street"
"Scream, Queen: My Nightmare on Elm Street" explores the fascinating life of Mark Patton, star of the sequel to the horror franchise, subtitled "Freddy's Revenge," a film that was demonized by fans dripping with gay hate. Patton was blamed for the film's queerness, and his career suffered accordingly. Cinephiles will recognize Patton as the young man in Robert Altman's dizzyingly good "Come Back to the Five and Dime, Jimmy Dean, Jimmy Dean" before the character becomes Karen Black. "Scream, Queen" is a story about survival amidst the deep-seated homophobia in Hollywood, especially during the first decade of the AIDS crisis. Patton is still standing, and that's a tribute to his indomitable spirit.
Daniel Karslake's stirring and heartbreaking, "For They Know Not What They Do," chronicles four faith-based true stories about the devastating effects of religious fundamentalism on LGBTQ children. Empathy and hope ultimately drive this truly urgent and potent work.
"Gay Chorus Deep South"
Filmmaker David Charles Rodrigues takes us along a post-Trump-election journey with the San Francisco Gay Men's Chorus into dangerous territory in "Gay Chorus Deep South." This doc (keenly) shines a light on the false assumptions we make about one another.
A daughter uncovers the fact that her parents ran a gay porno shop for three decades in Rachel Mason's engaging "Circus of Books." Rich with revealing layers, this free speech odyssey includes interviews with Larry Flynt and Jeff Stryker.
"You Don't Nomi" wonders if Paul Verhoeven's "Showgirls" was misunderstood and if there's more there than camp. The 1995 cult classic was initially met with universal derision, yet Jeffrey McHale's reexamination may have you streaming the flick and wondering if there was a method to the Verhoeven/Joe Eszterhas madness.
"School's Out"
French helmer Sébastien Marnier has created a creepy, compelling, and totally anxiety-inducing drama with "School's Out," which centers on a gay substitute teacher ("Elle" hottie Laurent Lafitte) taking over a class of gifted and alienated students. And while the film's denouement speaks volumes, I wish Marnier had given the teacher an actual love life.
Sonejuhi Sinha's "Stray Dolls" is an intriguing tale of a young immigrant from India (Geetanjami Thepa), in search of that elusive American dream, she takes on a cleaning job at a motel run by a bizarre drug-dealer (played with relish by Cynthia Nixon). When she meets a sexy co-worker named Dallas (Olivia DeJonge) everything changes, and the film zips into crime-thriller gear.
Redefining notions of what makes a queer film, Sara Zandieh's "A Simple Wedding" is about a bisexual guy (an appealing Christopher O'Shea) romancing a Persian woman (an equally appealing Tara Grammy) and how their parents get involved in the planning of their wedding. Rita Wilson (surprisingly hilarious) and the fabulous Shohreh Aghdashloo play the respective moms and easily steal all their scenes.
"Before You Know It"
Judith Light's killer funny performance anchors Hannah Pearl Utt's "Before You Know It," which focuses on two sisters (Utt & co-writer Jen Tullock) trying to keep their playwright dad's (Mandy Patinkin) off-off-Broadway theater afloat.
One quick word of advice to budding queer filmmakers like those behind "Cubby" and "Last Ferry": You do a disservice to your project wearing more than one hat. Choose the one that suits you best (hint: It's usually not the acting hat), otherwise your films come off as indulgent and amateurish.
One hyphenate who manages to rise above said fray is:
James Sweeney who wrote, directed and co-stars in "Straight Up." Sure, it's a bit indulgent, but he endears himself to us because he riffs on his idiosyncrasies. And he has written a witty and charming screenplay and is wise enough to give the best scenes to others, including his fabulous co-star Katie Findlay, who rocks the part. While no new ground is broken, "Straight Up" is an infectious, sweet, and smart look at why and how we delude ourselves.
"The Disappearance of My Mother (La scomparsa di mia madre)"
Finally, Beniamino Barrese's enigmatic "The Disappearance of My Mother (La scomparsa di mia madre)" is a beguiling, maddening doc about a son imposing himself on his mother's private world. Famous Italian model Benedetta Barzini, who turned radical feminist criticizing the fashion industry's misogyny, no longer has any use for the camera and its exploitative images. Her gay son insists on filming her every movement, in some strange attempt to preserve her essence. Barrese's sexual identity goes unexplored, on the surface, but I'm guessing many an Italian queer boy will be able to relate to a son's unwillingness to detach from mamma.

For more information about Frameline43, visit the Frameline43 website.
Frank J. Avella is a film and theatre journalist and is thrilled to be writing for EDGE. He is also a proud Dramatists Guild member and a recipient of a 2018 Bogliasco Foundation Fellowship. He was awarded a 2015 Fellowship Award from the NJ State Council on the Arts, the 2016 Helene Wurlitzer Residency Grant and the Chesley/Bumbalo Foundation Playwright Award for his play Consent, which was also a 2012 semifinalist for the O'Neill. His play, Vatican Falls, took part in the 2017 Planet Connections Festivity and Frank was nominated for Outstanding Playwriting. Lured was a semifinalist for the 2018 O'Neill and received a 2018 Arch and Bruce Brown Foundation Grant. Lured will premiere in 2018 in NYC and 2019 in Rome, Italy. LuredThePlay.com
Comments on Facebook