Finding What's Queer in Italian Cinema @ Open Roads Festival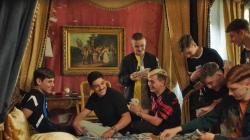 Open Roads: New Italian Cinema is the preeminent screening series annually showcasing contemporary Italian films in NYC. Co-presented by Film at Lincoln Center and Istituto Luce Cinecittà, the 19th edition was a pretty impressive mix of satiric comedies, absorbing dramas, and fascinating docs. The fest ran June 6-12th at the Walter Reade Theater.
After viewing over two-thirds of the selected features, I was struck by the absence of overt LGBTQ subject matter, but fascinated by how certain features brimmed with queer content anyway.
"Euforia"
More films with a queer presence seem to be popping up in Italian cinema, but only one was part of Open Roads, Valeria Golino's "Euforia," which stars Golino's real-life husband, Riccardo Scamarcio, as a gay man who discovers his brother (Valerio Mastrandrea) has a terminal illness and goes to great lengths to keep it a secret. Scamarcio has played gay before, notably in one of Italy's few out filmmakers' works, Ferzan Ozpetek's "Loose Cannons (Mine vaganti)." In both films, there is very little of the character's love/sex life depicted onscreen. This tentativeness about showing two men in any kind of sensual or sexual manner continues to be the norm in Italian pics. What are Italian filmmakers so afraid of?
Mastrandrea defended Golino's depiction, but when asked why an intimate same-sex moment wasn't included, even a kiss, he understood the point and, speaking to Italian cinema's fear of dealing with LGBTQ characters said, with hope, "I think that is the next step." We shall see.
"Piranhas (La paranza dei bambini)"
The Opening Night entry, Claudio Giovannesi's "Piranhas (La paranza dei bambini)", is adapted from the novel by "Gomorrah" scribe Roberto Saviano and centers on a gaggle of misguided teens living in the mob-infested world of Naples, and how they attempt to take over control of territory. The film is ostensibly about the ill-fated milieu these boys are born into (while riffing on "Wild in the Streets" in terms of the power and age dynamic), but homoerotic elements abound, especially in the interactions between the 15-year-old protagonist, Nicola (mesmerizing newcomer Francesco Di Napoli), and his mates. Sure, all the hugging, kissing and touching is a part of Italian culture, but Nicola seemed more into some of his male friends than he is his trophy girlfriend. And Giovannesi chooses to film Di Napoli in quite a sexualized manner, whether consciously or not. And I haven't even mentioned Nicola's drag moment or his shaving his legs.
"Pirahnas" is gripping and quite potent. And most everywhere you look onscreen you can find a pretty boy (interacting) with another pretty boy.
When asked if the gay sensibility and queer undertones were conscious choices, Giovannesi acknowledged the presence of "homosexual attraction," but said it manifested in a spontaneous manner that was not something he deliberately incorporated into "Piranhas." "All the kisses, it's not something that I asked them to do. They came up with that. That's something they suggested." He added, "An interesting thing is that there's a scene where you see a transsexual person and that's very widely accepted there (in Naples) because in that culture a lot of those kids had their first sexual experience with what is called in that city 'femminiello' (a Neapolitan gender-fluid term that usually refers to gay males with feminine gender leanings). Which is strange, because it's a very macho world, very chauvinistic, in which women are relegated to subordinate positions and the myth of the strong man is ever present. Having said that, it is a lot less homophobic compared to other Italian realities."
"If Life Gives You Lemons (Un giorno all'improvviso)"
A second young male teen, 17-year-old Antonio (an excellent Giampiero De Concilio), anchors Ciro D'Emilio's "If Life Gives You Lemons (Un giorno all'improvviso)." The narrative is sparse: Antonio cares for his mentally ill mother and is being scouted by a professional soccer team in southern Italy, but fate seems to be working against his bettering himself. Besides the gay undertones in the scenes that involve Antonio and his fellow players, we once again have a director who lovingly films his male protagonist. Both "Lemons" and "Piranhas" seem to hint at a possible alternate sexual identity for their lead figures, but that is never explored - which isn't surprising, since the southern Italian culture itself operates on a 'don't ask, don't tell' basis that is, arguably, homophobic.
Interesting enough, when asked about cinematic influences, both directors (Giovannesi and Emilio) immediately responded by citing Pasolini.
"Magical Nights (Notti magiche)"
The best film to be featured at this year's festival may not be LGBT-themed, but it treats its fleeting queer moments in a refreshing, matter-of-fact style. Paolo Virzì's hilarious and insightful "Magical Nights (Notti magiche)" is a smart, cheeky-keen satire on the decline of the Italian film industry when avarice destroyed neorealism and commedia all'italiana. Set in the early '90s, and built around the budding careers of three screenwriters, the movie is a deliriously clever comedy thriller and features outstanding performances by Irene Vetere, Mauro Lamantia and, especially, Giovanni Toscano, as well as the great Giancarlo Giannini.
"Loro"
Another impressive selection is "Loro" directed by Paolo Sorrentino ("The Great Beauty"), an ambitious and satiric (although very different from Virzì) "reimagining" of the fall and resurrection of Silvio Berlusconi, the Trump of Italy. Played with a wicked blend of pathos and maddening ego by Toni Servillo, "Loro" is like two different films in one. The first involves a greed-mongering talent agent (played to the lunatic hilt by Riccardo Scamarcio, diving into his "straight" role with relish) who is desperate to get the former president's attention. The second is a more intimate and penetrating portrait of a deeply corrupt, sexually warped, and delusional despot. (The only hint of anything queer, btw, is two women having sex for the benefit of a man.)
"Sono Gassman! Vittorio re della commedia"
Fabrizio Corallo's reverential doc, "Sono Gassman! Vittorio re della commedia" will make you want to seek out the films of the great Vittorio Gassman, especially Dino Risi's masterpiece "Il Sorpasso," which truly captures an Italy on the verge of changing forever — and a film with its own homo-obvious elements.
Three other worthwhile selections provide terrific showcases for their female leads:
Edoardo De Angelis's "The Vice of Hope (Il vizio della speranza)" is an absorbing film about a woman (a riveting Pina Turco) determined to alter her horrific criminal life, in which she aids her family in trafficking pregnant women for profit.
"Lucia's Grace (Troppa Grazia)"
Gianni Zanasi's "Lucia's Grace (Troppa Grazia)" stars a captivating Alba Rohrwacher ("Happy as Lazzaro," "I Am Love") as a befuddled land surveyor who becomes convinced that the Virgin Mary is speaking to her and ordering her (rather forcefully) to build a church on the land she is surveying. The scenes between Rohrwacher and Hadas Yaron as the Madonna are priceless.
Valerio Mastandrea's directorial feature debut, "Laughing (Ride)," deals with grief and loss and is most interesting when it focuses on the wife and mother of the story (Chiara Martegiani) who loved her husband, but cannot seem to mourn his death properly. The film also deals with how paternal pressure can wreck a life.
Finally, at the very end of Adele Tulli's doc "Normal," two men are united in a civil union ceremony — a telling moment that speaks volumes. Same-sex couples cannot marry in Italy. But the 2016 recognition of same-sex unions was a huge victory.
Perhaps Italians are at a crossroads when it comes to LGBTQ acceptance, but the only thing still reflected in Italian cinema when it comes to queer stories is avoidance, peppered with homoerotic content that is both maddening and telling.

For more information about the Open Roads Festival and other film series at Film at Lincoln Center, visit the Film at Lincoln Center website.
Frank J. Avella is a film and theatre journalist and is thrilled to be writing for EDGE. He is also a proud Dramatists Guild member and a recipient of a 2018 Bogliasco Foundation Fellowship. He was awarded a 2015 Fellowship Award from the NJ State Council on the Arts, the 2016 Helene Wurlitzer Residency Grant and the Chesley/Bumbalo Foundation Playwright Award for his play Consent, which was also a 2012 semifinalist for the O'Neill. His play, Vatican Falls, took part in the 2017 Planet Connections Festivity and Frank was nominated for Outstanding Playwriting. Lured was a semifinalist for the 2018 O'Neill and received a 2018 Arch and Bruce Brown Foundation Grant. Lured will premiere in 2018 in NYC and 2019 in Rome, Italy. LuredThePlay.com
Comments on Facebook