The Farewell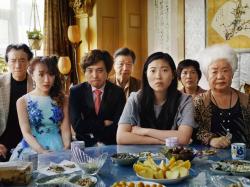 Families have a funny way of hiding secrets from each other. And when you travel to different cultures than the one you inhabit, some things you wouldn't even dare to hide from your family may not seem as taboo to others. That balancing act of keeping a secret that would upend your entire family dynamic? That's where "The Farewell" finds its footing, and boy does it make for great drama and comedy. Director/writer Lulu Wang draws from her own experiences to bring one of the most touching films of the year to the big screen.

Billi (Awkwafina) is a struggling artist living in New York City when her parents bring her some terrible news about the matriarch of the family, Nai Nai (Shuzhen Zhou). Nai Nai has been diagnosed with cancer and is given only a few weeks to live. Billi's father, Haiyan (Tzi Ma), knows that she won't be able to keep this secret from Nai Nai, who has no idea she's sick, and he refuses to let her accompany the rest of her family on a trip to Changchun for another family member's wedding. Billi instead gets on a plane immediately and throws herself into in Nai Nai's good graces, because to her not seeing her grandmother before she passes would be too unbearable.

The wedding provided the reason for the family reunion, even though the people getting married were more than forced to make the decision to wed. That's where Lulu Wang shows remarkable confidence over the story she's telling. To hide one lie, a bunch of other lies need to be carefully placed on top of it. As an audience member, you'll be waiting for the moment where tragedy strikes and the charade drops in front of Nai Nai, but Wang's story isn't about easy conclusions. She wants us to reflect on how it's hard to find a cultural identity when the U.S. is itself a melting pot of different strokes, and the China she barely knows is derided by her own parents.

"The Farewell" is based on actual experiences that happened to Lulu Wang. She first recounted it on "This American Life" back in 2016, and very clearly has a strength when it comes to navigating a world that's still a giant mystery to her. Plus, much of her new features is filled with unfussy and carefully designed takes. She wants the audience to know the tics of every character she brings to life, and she does exactly that without making them seem like caricatures. I can only imagine what would happen if a white filmmaker were to take on the same material. It becomes clear early on that this story is Wang's to tell, and we're all the better for it.

Even more than the confidence behind the camera, Wang employs a slew of talented Chinese actors and actresses to go on this wild ride. Most notably, Awkwafina does an incredible job at switching to drama and comedy at a moment's notice. Praise needs to be awarded to Zhao Shuzhen, though, as her performance perfectly emulates the sadness that's at the heart of every grandmother or grandfather. Nai Nai is character that hasn't seen Billi in ages but understands why her family resides in the U.S. instead of China, so she vacillates between being frustrated with the current situation and happy that she gets the time with her granddaughter.

"The Farewell" not only cements Lulu Wang as a fresh voice to watch out for, it shows that some stories are better off being retold by the people who experienced them. In Wang's case, she has a knack for re-creation and depiction of the many ways that family have a way of strengthening us even during the most troubled times.
Comments on Facebook