Top Story
Any fans of "Downton Abbey" are going to absolutely love this fully immersive experience that puts you right inside Downton.
1 thru 10 of 13785 Stories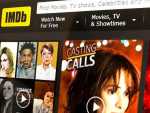 Recently, movie database IMDb has been drawing criticism from activists and trans celebrities for publishing stars' birth names and been accused of a form of deadnaming.
Frameline43, SF's international LGBTQ+ film festival, runs through June 30. EDGE's Frank Avella looks at many of the titles in the fest that will likely show at a festival near you.
The Open Roads Festival, which annually showcases contemporary Italian films, completed its 19th edition recently. EDGE's Frank Avella looks at just how queer the latest edition was.
"Last Ferry" is an interesting movie that will keep your attention from start to finish — if for no other reason than to see where it is going next. It doesn't offer much in terms of suspense, but as a character study there is plenty to unpack.
Cursed doll Annabelle doesn't do much in her third starring role, but there are a bunch of other spooky apparitions that randomly run rampant in the bland sequel to the spinoff from "The Conjuring."
Balancing its protagonist's tenderness and cruelty in equal doses, Bruno Dumont's debut 1997 feature, "La vie de Jésus," is a fascinating character study.
Marred by a prolonged sequence of outdated and enthusiastic racism, "Swing Time" is both a swoon-worthy musical romance and an unfortunate product of 1930s prejudice.
The shorts in "Transfinite" celebrate trans folks as literal magical beings.
"Queer Genius" documents queer artists of the present day: Barbara Hammer, Black Quantum Futurism, Jibz Cameron, and Eileen Myles.
After the 2016 elections, the San Francisco Gay Men's Chorus launched its Lavender Pen Tour, bringing a musical message of love and unity to four deeply anti-LGBTQ states. This documentary follows the Chorus on that journey of hope and healing.
1 thru 10 of 13785 Stories