Political issues that excite newsprint, the airwaves and social media are getting a very open airing at the 58th Venice Biennale contemporary art fair, like so much laundry hung out to dry in the lagoon breeze.
The history of Hollywood's famous private eye vanishes in invisible ink, while the stories of real-life spies and modern-day espionage take center stage.
The home of "Evita" has been restored and turned into an interactive museum to mark the 100th anniversary of the birth of the iconic first lady.
A same-sex Los Angeles couple was dumbfounded when Homeland Security agents showed up at their home in 2016 with the news that a beloved old portrait hanging in their kitchen had been looted by the Nazis from Poland's National Museum during World War II.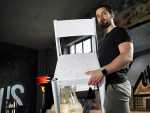 Gallerist Rossana Orlandi has curated an exhibition titled "RO Plastic — Master's Pieces" of original objects crafted from plastic trash by such luminaries as Australian designer Brodie Neill, Italian Piero Lissoni and Dutch designer Piet Hein Eek.
More than simply an iconic cathedral and jewel of Gothic architecture, Notre Dame was a treasure trove, housing priceless and irreplaceable marvels of immense religious, artistic, musical, historical and architectural value.
The vibrant colors and hues in Georgia O'Keeffe's paintings soon will be on full display for color-blind visitors.
A new exhibition in Berlin, 100 hundred years later, is questioning the perception that the era's political and economic disaster was inevitable and stressing the lasting impact of the Weimar Republic.
The exhibit titled, "Gender Bending Fashion," examines moments in history when clothing transcended and muddled our understanding of gender.
A colossal sculpture that will give people more than 150 interconnected stairways to climb is opening to the public as part of New York City's Hudson Yards development.