The Merry Magic of 'Holidays at Universal Studios'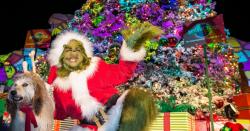 The magic of the movies is spreading festive flair at Universal Studios this season with a holiday celebration for people (and wizards and Grinches) of all ages. Running now through December 29th, the popular theme park is home to the Who's of Dr. Seuss' Who-Ville, and the whimsical characters of the Harry Potter world. Bursting with holiday cheer, and with a double dose of magic, a visit to the park offers the perfect sprinkle of spirit to light up any tree or menorah.

Before entering "Holidays at Universal Studios," guests can revel along Universal City Walk with plenty of festive decorations and attractions to see. Once again, they will have their spectacular 40-foot tall Christmas tree on display donning over 200,000 LED icicles choreographed to the sounds of the season. There are also free concerts and performances by talented street performers throughout the month. Also, take a moment to watch the dancing water fountain with its numerous streams of choreography complemented by red and green lights and holiday-themed music.

Once inside the park, guests will be transported to Who-Ville, with a breathtaking "Grinchmas" tree twisting and curving 55 feet up in the air at the center of it all. Nightly, you can partake in the Who-lebration with tree lighting ceremonies and snowball flurries. In this spirited village, you can also take a photo with the Grinch himself, and his dog Max, as well as a number of Who-Ville residents, who are all eager to meet you. Once you walk into this enchanted world created by Dr. Seuss, much like the Grinch, your heart will most likely "grow three inches that day."

For a change of scenery, but brimming with just as much cheer, is "Christmas in The Wizarding World of Harry Potter." Here, you can celebrate the season in the village of Hogsmeade, which has been blanketed in holiday decor and brimming with seasonal themed food and entertainment. All the magic still very much fills the air; it's just dusted with extra spellbinding spirit. Make sure you enjoy a deliciously warm Butterbeer as you walk along the cobbled streets, and keep your eyes open for the witches and wizards of Hogwarts singing carols with the a-cappella Frog Choir. The shops in this magical village are full of Christmas items — hand-crafted ornaments, snow globes, tree toppers and much more — that are perfect for any special last minute gifts to add to Santa's bag.

My favorite part of "Holidays at Universal Studios" is the bewitching light show of "The Magic of Christmas at Hogwarts Castle." Once the sun goes down, the castle is draped with a dazzling light projection show allowing everyone to experience Christmas within the pages of the Rowling classic novels. The animated light show, along with musical scores from the films, will transport everyone to the enchanted world of these fantastical characters.

A trip to Universal Studios just wouldn't be the same without a run in with the mischievous Minions. You will find these merry mischief makers at "Despicable Me Minion Mayhem" and "Super Silly Fun Land" where they will be gleefully spreading Christmas chaos.

The spirit of Christmas and the Holidays are very much alive this season and Universal Studios is being sprinkled with loads of festive cheer. Plenty of fun lies around every corner, bundles with colored lights, seasonal treats, holiday adornments and our favorite Universal characters. This is one holiday party you won't want to miss.

"Holidays at Universal Studios" runs through December 29 at Universal Studios Hollywood, located at 100 Universal City Plaza, Universal City. For information or tickets, visit www.universalstudioshollywood.com.

This story is part of our special report titled "Holidays 2019." Want to read more? Here's the full list.
Comments on Facebook