The latest heavy-duty pickups deliver new heights of towing and hauling performance while also offering as many high-end features as a luxury sedan.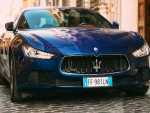 Luxury carmaker Maserati said Thursday it would invest 1.6 billion euros ($1.8 billion) as it boosts Italian production with a new super-sports car and a utility vehicle as well as the launch of a hybrid version of the successful Ghibli sedan.
As the United Auto Workers' strike against General Motors stretches into a second week, it's not just the company and striking workers getting pinched.
An Australian state is attempting to persuade people to put down their smartphones while driving by rolling out cameras to prosecute distracted motorists.
German prosecutors say they have charged Volkswagen CEO Herbert Diess and chairman Hans Dieter Poetsch, along with former CEO Martin Winterkorn, with market manipulation.
Democrats were quick to back working-class United Auto Workers in their strike against General Motors, delivering doughnuts and holding picket signs outside factories to show solidarity. There were no doughnuts from Republicans.
A General Motors offer to invest $7 billion in U.S. facilities includes $2 billion from joint ventures and suppliers for new plants that would pay workers less than the top union wage, a person briefed on the matter said.
President Donald Trump and his team are distorting the facts in explaining the administration's decision to stop California from setting its own emission standards for cars and trucks.
One California lawmaker is already working on a way to preserve at least some of the state's environmental muscle: Rebates for electric cars.
Volkswagen has agreed to pay up to 127 million Australian dollars ($87 million) to settle an Australian class action stemming from the 2015 diesel emissions scandal, the German automaker and a lawyer said Monday.