President Donald Trump is using "treason" rather lightly as he assails unidentified U.S. officials for investigating operatives of his campaign in 2016. There's no allegation or even suggestion that they committed any actual crime.
For years, when Bokoshe residents were outside, the powdery ash blowing from the trucks and the ash dump on the edge of town would "kind of engulf you." Their experience might foretell similar fates for other towns.
Hundreds of demonstrators marched to the Alabama Capitol on Sunday to protest the state's newly approved abortion ban, chanting "my body, my choice!" and "vote them out!"
The federal appeals court ruled Friday the Trump administration acted in an "arbitrary and capricious" manner when it sought to end an Obama-era program that shields young immigrants from deportation.
It was the dress blue uniforms that drew John Thompson to join the U.S. Marines, where black men were not welcome, so he could defend a country that denied him the rights he wanted to fight for.
Unveiling a new immigration plan, President Donald Trump said he wanted to provide a sharp contrast with Democrats, and he did — aiming to upend decades of family-based immigration policy with a new approach.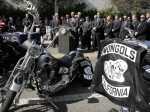 A federal judge on Friday fined the Mongols motorcycle club $500,000 in a racketeering and conspiracy case but refused the latest effort in a decade-long attempt by the government to take away the club's control over its logo.
Hedwig Hegtermans has lived in Britain for two decades, but she didn't have a vote when the country decided in 2016 to leave the European Union. She's determined to have her say on Brexit now.
President Donald Trump is moving fast to spend billions of dollars to build a wall on the Mexican border with money secured under his declaration of a national emergency, but he first must get past the courts.
Conservative lightning rod Roy Moore of Alabama, narrow loser of a turbulent special election for Senate in 2017, is considering a fresh run next year. National Republican leaders are signaling they'll again try to stop him.