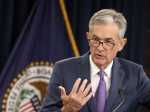 Against the backdrop of a vulnerable economy, Federal Reserve Chairman Jerome Powell takes center stage Friday with the financial world seeking clarity on whether last month's first Fed rate cut in a decade likely marked the start of a period of easier cr
The federal budget deficit is expected to balloon to more than $1 trillion in the next fiscal year under the first projections taking into account the big budget deal that President Donald Trump and Congress reached this summer.
Under the glare of a spotlight, Chairman Jerome Powell may signal Friday what the Federal Reserve will do — or can do — to strengthen the economy and restore confidence at a time of nagging uncertainties and global weaknesses.
Airlines expect record crowds over the week-long Labor Day period, continuing a rise in travel that has boosted the airlines' profits all year.
President Donald Trump acknowledged his aggressive China trade policies may mean economic pain for Americans but insisted they're needed for more important long-term benefits.
British Prime Minister Boris Johnson has demanded that the European Union reopen Brexit negotiations, scrapping "anti-democratic" provisions for the Irish border that he says would threaten the peace process in Northern Ireland.
If several of the Democratic candidates for president have their way, student debt will be a thing of the past — at least for current student loan borrowers. They are on to something. The nation's student debt problem is an issue that needs solving.
A strong majority, 74%, of U.S. business economists appear sufficiently concerned about the risks of some of President Donald Trump's economic policies that they expect a recession in the U.S. by the end of 2021.
Foreign-born residents had higher rates of full-time employment than those born in the United States last year, and naturalized immigrants were more likely to have advanced degrees than the native-born, according to figures released Monday.
The "fundamentals" of the U.S. economy are solid, the White House asserted, invoking an ill-fated political declaration of a decade ago amid mounting concern that a recession could imperil President Donald Trump's reelection.